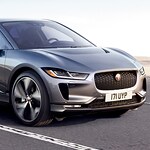 The all-new Jaguar I-Pace was finally unveiled to the world last week, and it has been causing a lot of excitement. This electric SUV is sure to be a big hit, thanks to its sporty design and impressive specs.

Front Bumper

The front bumper of the I-Pace is very sleek and sporty, with a large air intake in the center. This helps to cool the battery and motors, which is essential for an electric vehicle. The headlights are also very slim and sharp, giving the I-Pace a unique look.

Rear Bumper

The rear bumper of the I-Pace is just as sporty as the front, with a diffuser that helps to improve aerodynamics. The taillights are very slim and wrap around the sides of the vehicle, giving it a very modern look.

Wheels

The I-Pace comes standard with 20-inch wheels, but you can opt for 21-inch wheels if you want. The 20-inch wheels help to improve range, while the 21-inch wheels provide a more aggressive look.

All in all, the exterior of the Jaguar I-Pace is very impressive. It's sure to turn heads when it hits the road!