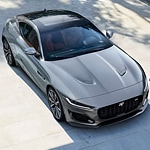 The 2022 Jaguar F-TYPE here at Jaguar Cape Fear has been designed with a keen eye for detail and an unmistakable sense of style. This car can turn heads in Wilmington, NC wherever you go, from the subtle curves to the bold lines. Its exterior features give it a distinct look that sets it apart from other sports cars.
The Jaguar F-TYPE comes equipped with 20" alloy wheels that provide superior grip and handling on any road surface. It also has adaptive LED headlights that automatically adjust their brightness based on the conditions outside - perfect for driving in foggy or stormy weather. The car's large grille adds to its powerful stance while allowing optimal airflow through the engine bay, cooling it down efficiently even under extreme conditions. And with standard power-folding heated side mirrors, you can be sure that your Jaguar F-TYPE remains stylish even when parked.
There are several customization options available for those looking to make a statement. The exterior is available in ten different colors. It features optional carbon fiber components such as the front splitter and rear spoiler, which add an extra layer of sophistication to the car.